Recover Deleted Files
It is main function of ISD Data Recovery software to recover deleted files, we can get deleted files back by using this function. Even if deleted files were emptied form the Windows Recycle Bin, we still have a chance to recover these deleted files. Following is a step by step guide to recover deleted files by using ISD Data Recovery software.
Step1: Launch the program of ISD Data Recovery software by clicking the icon of the software in the Windows desktop, and click 'Recover Delete Files' button, then click 'Next' button which is located on top of the operating Window.
Step2: Enter the next interface to select a disk partition, following is the illustration of the interface: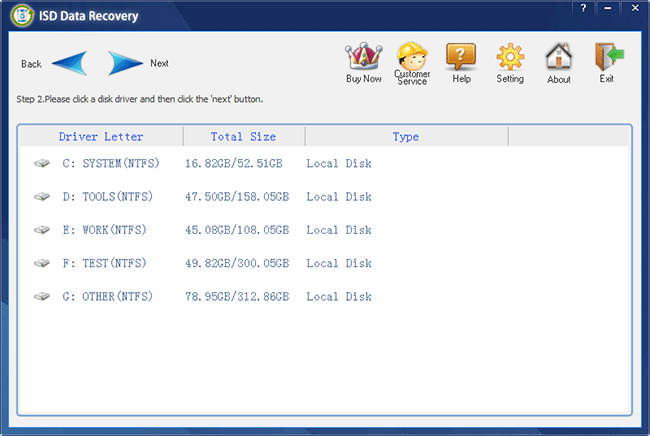 Step3: Find and select the disk partition where the deleted file located, then click 'Next' button. Later, the software start to scan deleted files in the disk partition, scanning deleted files is time-consuming, so please be patient. After the software complete scanning deleted files, a deleted files list will be popped up.
Step4: Find the deleted file which you want to recover, and tick the file in the deleted file list, then click 'Next' button to start recovering file.